An Overview Of Re-domiciliation To Singapore
---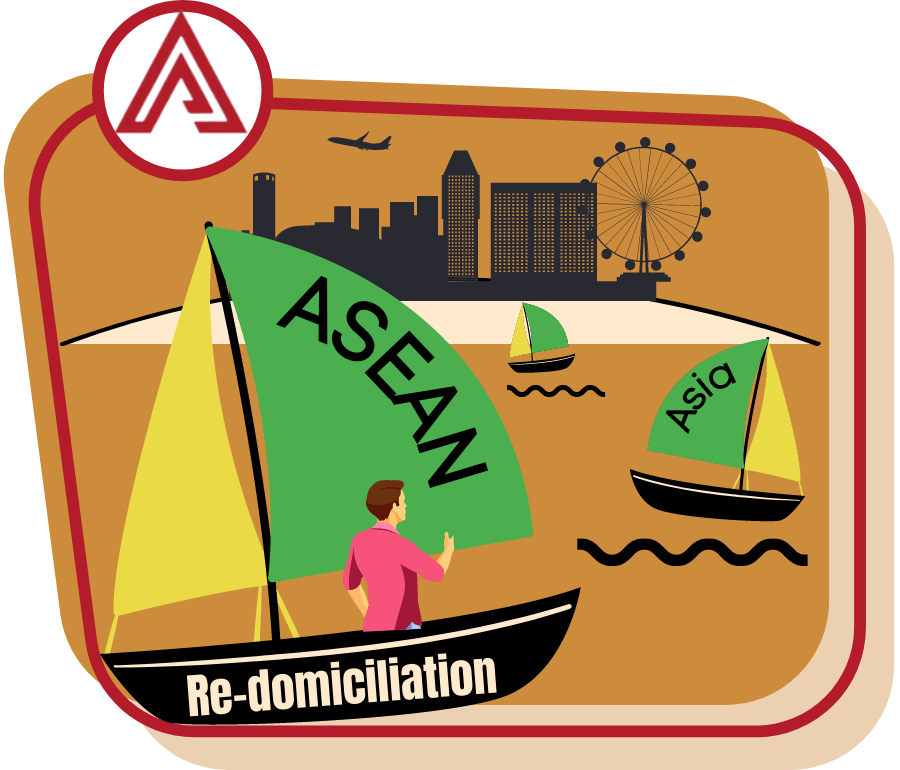 An Overview Of Re-domiciliation In Singapore
Singapore has long been a popular place to do business because of its many attractive advantages. Because of the nation's favourable geographic location, a gateway to ASEAN, and the leading hub of many industries worldwide, you can access an extensive business network in many countries. In recent years, more and more foreigners have "converted" their existing foreign businesses to Singapore-registered companies; this process is known as re-domiciliation.
With that said, some prefer setting up companies here in Singapore via this pathway than incorporating a branch of their foreign company or a subsidiary office in Singapore.
Suggested Read: Why Foreigners Prefer To Set Up Companies In Singapore
What exactly is Re-domiciliation?
Re-domiciliation in Singapore refers to transferring a foreign company registration from one jurisdiction into another or, in other words, a process by which a foreign business transfers its registration from its country of incorporation to Singapore, thereby functionally becoming a Singapore company. The company will be legally recognized as a local company and is subject to the same laws and regulations as other Singapore-incorporated companies outlined in the Companies Act.
Re-domiciliation is also another pathway for foreign companies wishing to set up their Singapore companies as subsidiary offices or branch offices with the most negligible impact on their existing branding and ongoing business operations instead of registering a new company for the existing overseas business. This process is prevalent for businesses that have a parent company overseas.
Why Re-domicile in Singapore?
Foreign corporate companies choose to re-domicile in Singapore for a variety of reasons. Moving their businesses to Singapore will give them access to several free trade agreements, lower taxation, and, of course, stability as compared to other ASEAN countries. The following are some other reasons for foreign companies to apply for re-domiciliation:
Business Continuity
Re-domiciliation lets you carry on with your business in Singapore without setting up a new company or branch from scratch. That said, the company continues to exist as the same legal entity as it did when it was overseas. This also implies that upon the conversion of the company to Singapore, the company's past performance, goodwill, and credit rating will be kept, maintained, and continued.

FTA

(Free Trade Agreements)
Singapore is known to have one of the lowest rates of taxation in the entire world, and this is a massive benefit for foreign companies who wish to re-domiciliate in Singapore. Furthermore, funds set aside for tax purposes can be used to improve the company's business operations, logistics, and marketing expenses.
Better Access to the Asia/ASEAN market
One of the best ways foreign companies can access the Asian or ASEAN market without setting up a new company from scratch is through re-domiciling in Singapore. By transferring its legal jurisdiction to Singapore, a foreign company can quickly gain entry into the Asian/ASEAN market without making any significant adjustments to how they do business.
Related Content:  Do You Know There Is A Special Trade Agreement Between Singapore And Indonesia?
Re-domiciliation eligibility in Singapore
Firstly, you need to ensure that your current overseas company's name will be accepted for company registration in Singapore before applying to redomicile in Singapore. Even though you wish to use the same name as your existing overseas company, this may not be possible if, for instance, a Singaporean company with a similar name to yours already exists. You should also check whether your company is eligible for re-domiciliation in Singapore. The three critical criteria are size, solvency, and legality.
Size requirement for re-domiciliation
The size requirement would need to be met by your existing overseas company and must satisfy at least two of the three following criteria:
Total assets worth more than SGD10 million
More than SGD10 million in annual revenue
Has 50 or more employees
If you wish to redomicile your whole business group, let's say you have a parent company and two subsidiaries that were formed overseas then the entire group must satisfy the size requirement.
Solvency requirement for re-domiciliation
No basis indicates the foreign company that is unable to pay its debts;
The foreign company can pay its debts when due within a year of the date of application for the transfer of registration;
If the corporate entity intends to wind up within 12 months of applying for transfer of registration, the foreign corporate body must be able to pay off all of its debts within that time frame;
The assets of the foreign company are equal to or greater than the value of its liabilities (including contingent liabilities)
Other requirements for re-domiciliation
The foreign company must be able to move its incorporation from its original jurisdiction to Singapore, also known as "outward" re-domiciliation from the country of origin;
The foreign company complies with the legal requirements of its place of incorporation concerning the transfer of registration;
Legal policies must be in place in your original country of incorporation for businesses to re-domiciliate abroad. Some nations allow for two-way re-domiciliation (i.e. for foreign companies to re-register as local companies, while some only allow for inward re-domiciliation;
The application for re-domiciliation is executed with integrity and good faith;
It is not the intention of the application for transfer of registration (re-domiciliation) to mislead their current creditors or shareholders in the foreign company;
The first fiscal year of the foreign company has ended and closed as of the application date in its jurisdiction of incorporation;
The foreign company must not be in liquidation, be in the process of winding up, or be under judicial administration.
Documents required for Re-domiciliation in Singapore
Other than the submission of the application form, the following supporting documents must be included:
A certified true copy of your Memorandum of Association, Articles of Association, or other equivalent constitutional documents (done at the time when your foreign company was incorporated in its country of origin);
A certified copy of the current constitutional documents if successfully redomiciled as a Singapore-registered company;
A certified true copy of your foreign registered company;
If necessary, provide a declaration of the secretary, director, or corporate service provider that applied
Visit the official ACRA website to see the complete list of required supporting documents in detail.
Requirements for Company Registration if Re-domiciliation is successful
At least one shareholder is required, who may be either an individual (may own 100% of the foreign shares) or a corporate entity
At least one local resident director is required, who may be a Singaporean citizen, a Singaporean permanent resident, or a Singapore employment pass holder. Director nominees are also accepted for this purpose.
At least one local corporate secretary is required.
A minimum initial paid-up capital of SGD 1 is required.
A locally registered address is required.
Related Content: Registering A Business In Singapore For Foreigners
Related Content: Basic Requirements For Company Registration In Singapore
What APacTrust can help you after Re-domiciliation
So what's next after re-domiciliation? At APacTrust, we recognize that foreign entrepreneurs may not be familiar with some of Singapore's compliance standards and requirements. Hence, it is advisable to leave the incorporation process to our team of professionals who specialize in this field to avoid needless struggles and hassles for yourself.
Feel free to contact us to get a free consultation, we can offer you a leg-up in this process efficiently.