Doing Business – Singapore Versus Hong Kong
---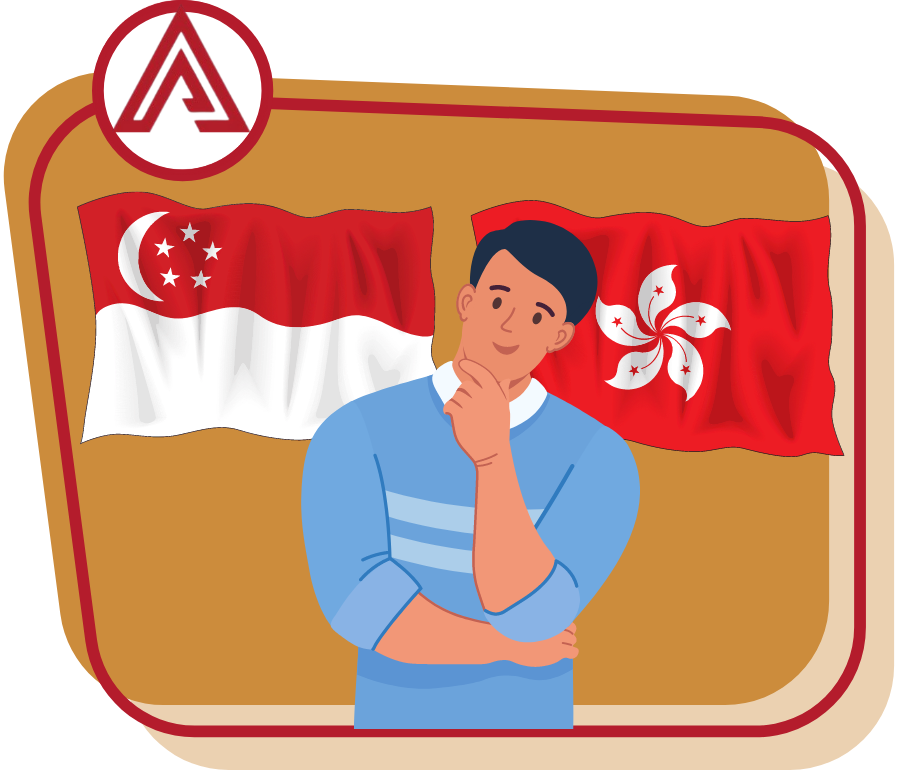 Incorporating a Company In Singapore Versus Hong Kong
6 Reasons Why Registering Companies in Singapore Is Better As Compared To Hong Kong
With the explosive rise and growth of Southeast Asia, many companies are looking to deepen their presence here in order to build consumer insights and expand their operations.
Hong Kong has always been known as a gateway to China and the rest of the Asian countries. However, the recent implementation of the national security law and the subsequent protests, it has led to a drastic hit to the competitiveness of the city.
Enter Singapore— similarly known as being a gateway to the Asian region, housing many Asia-Pacific headquarters of unicorn companies such as Sea, Grab, and Lazada.
Singapore is a strong contender to Hong Kong for businesses to conduct their operations here. Here are six reasons why Singapore is a good alternative to Hong Kong for doing business.
Related Content : Doing Business In Singapore Versus Vietnam
Related Content : Doing Business In Singapore Versus Indonesia
1. Stable socio-political environment in Singapore versus Hong Kong
Perhaps the most problematic issue that plagued Hong Kong in the past few years is its political unrest that curtails freedom of speech.
With China's growing influence over Hong Kong, many feel that the "one country, two systems" arrangement is slowly being eroded. Over 52 banks and financial companies have already left the city, with many of them relocating to Singapore, according to Nikkei Asia.
In comparison, Singapore is much more politically stable. With its competent and united leadership, the ruling People's Action Party (PAP) has remained dominant since 1959 before Singapore became independent. It has a track record of steering the country through difficult crises such as the Asian Financial Crisis in 1997, the Dot-Com Bubble Burst in 2000, and most recently – the COVID-19 pandemic in 2019.
2. Low taxation policies in Singapore versus Hong Kong
One of the main draw of Singapore has always been its low taxation policies and double-tax agreements signed with over 80 countries.
It maintains a competitive corporate tax rate of 17 per cent and less than 22 percent personal income tax rate for residents. This means more after-tax income for you to enjoy.
Looking to help your business expand and improve efficiency? There is also a 100% tax deduction for qualifying expenditures for eligible R&D activities in Singapore.
 3. Ease of doing business in Singapore versus Hong Kong
Want to know how long it takes to register a company online in Singapore? It takes as short as 15 minutes.
What about the number of days to set up a business? It's 1.5 days.
Perhaps the best part of business registration in Singapore is that all the processes are fully digitalised and streamlined. This means you can easily start your business anywhere in the world, even if you are not yet in Singapore.
It is no wonder that Singapore has always remained in the top five of the World Bank's Ease of Doing Business rankings.
4. World-class workforce talent in Singapore versus Hong Kong
When you do business in Singapore, you gain access to an English-speaking workforce that is educated, qualified and continues to remain highly relevant.
English is the administrative language and the most widely spoken language in Singapore, compared to Cantonese and Mandarin in Hong Kong. This greatly facilitates communication in the offices, especially for Western and European companies looking to do business in Singapore.
The Singapore government recognised a need to build a competent workforce and had invested heavily in education. This paid off as Singaporeans have an extremely high literacy rate of 97.3% and consistently topped OECD education rankings.
Under the SkillsFuture initiative, Singaporeans are also encouraged to continuously learn new skills even after entering the workforce to keep themselves relevant, with strong financial support from the government.
5. Great connection to the world by air and sea in Singapore versus Hong Kong
Singapore is conveniently located close to the rest of Asia and the Pacific for you to conduct your business easily. No more jet lags and red-eyed flights across the continent – it only takes five to seven hours to access most Asian countries by plane.
The Port of Singapore is also the biggest and busiest port in Southeast Asia and the second in the world, attracting over 130,000 vessel calls a year.
Far from resting on its laurels, Singapore is now constructing the Tuas mega-port expansion project, slated to be the world's largest container terminal and due for completion by 2040. This port expansion allows greater economies of scale and more optimised deployment of resources for port and marine services, with the reduction of inter-terminal haulage, according to the Maritime and Port Authority of Singapore (MPA).
6. Excellent quality of life in Singapore versus Hong Kong
Individuals don't have to go very far to stumble upon delectable food and drinks in Singapore. The city-state is packed with many cafes and restaurants offering a wide range of cuisines, such as Chinese, Malay, Indian, Western, and European. Want a more wallet-friendly option? There is a plethora of hawker centres around Singapore that offer cheap but good food.
You can also be assured that your personal safety is always in good hands as Singapore has one the lowest crime rates in the world. The country topped the list as the world's safest city in personal security and infrastructure security, according to the Economist Intelligence Unit 2019 Safe Cities Index. Large-scale protests are also virtually unheard of in Singapore since organising or participating in a public assembly without a police permit is illegal.
Who says Singapore is boring? Make the most out of your weekends and leave days with a myriad of attractions and international events, such as visiting the award-winning Marina Bay Sands and going for the Formula One Singapore Grand Prix, Asia's first night race and street circuit.
Singapore— The Best Place to Do Business
With its highly open economy, Singapore is one of the most competitive countries in the world to do business.
Its biggest comparative advantages lie in its highly educated workforce and pro-business policies by a corrupt-free government. Combined with a good quality of life and lack of natural disasters, it is no wonder that Singapore still remains the top location for expatriates although many Asian cities offer similar benefits to overseas workers.
Many have trusted the city-state to bolster their growth in the Asia-Pacific region— from the world's large multinational corporations to the fastest-growing start-ups. What about you?
Suggested Read: How Singapore is Shaping the Future for technology companies
Incorporate your business in Singapore easily with ApacTrust Consulting Group
At ApacTrust Consulting Group, we specialise in company incorporation and support services you will need for starting a business in Singapore. With more than 20 years of experience, we have set up over 1,000 Singapore and off-shore companies for businesses, investors, and entrepreneurs locally and internationally.  Contact us today to find out more about our business incorporation services.