Doing Business In Singapore Versus Vietnam
---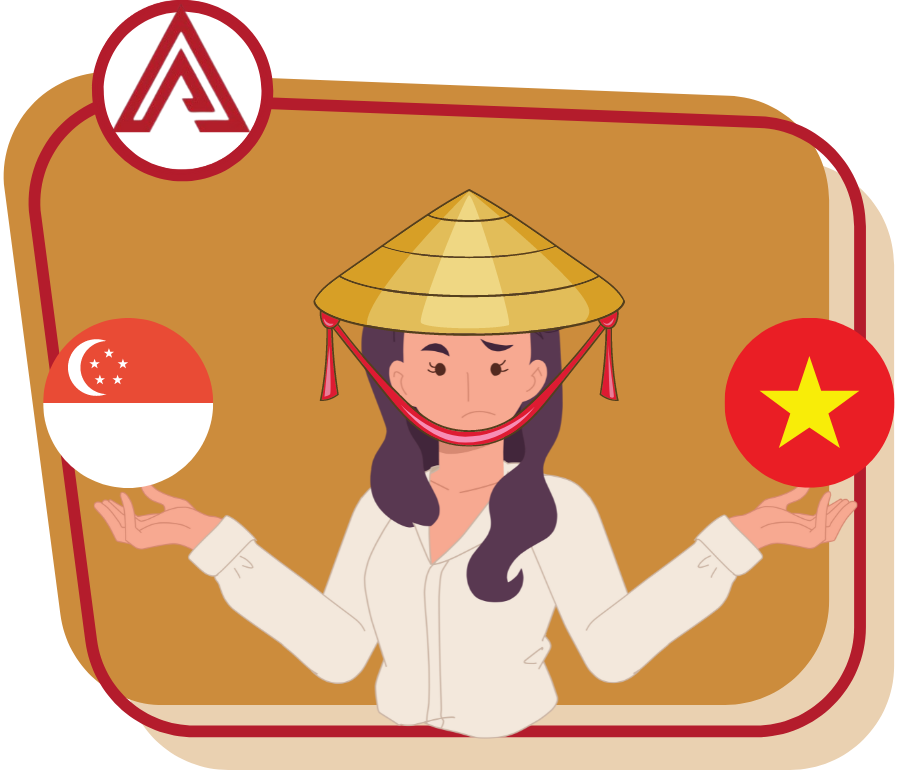 Incorporating A Company
In Singapore Versus Vietnam
Over the next decade, the Southeast Asia market is expected to provide up to 70% of the world's new consumer population. Just in 2021, FDI (Foreign Direct Investment) hit a record of $619 billion with 40% of global foreign investment inflows going to developing economies like Vietnam. By 2030, tech-savvy millennial and Generation Z customers will account for 75% of the region's GDP. As digitalization continues to rise in Southeast Asia, the e-commerce industry is also projected to rake in US $172 billion by 2025.
As the Covid-19 pandemic restriction eases and borders open in Southeast Asia, new chances for market expansion emerge. With countries again on the mend following significant losses caused by the COVID-19 pandemic, the area is once again emerging as one of the world's most appealing places to be doing business.
Singapore and Vietnam are among the top popular spots in the region to start a business. So which country should I station myself to get the best chance of doing well for my business?
In this article, we will do a comparison between setting up a business in Singapore versus Vietnam. Giving you a detailed list of comparisons for you to make and choose which of the two is best suited for you. And finally, understand why Singapore is the better place to start your business.
Related Content: Doing Business In Singapore Versus Indonesia
Related Content: Doing Business In Singapore Versus Hong Kong
Top 5 Things to Look at When Picking a Country to Incorporate a Business
To ensure businesses are able to do with ease, business owners need to do their own due diligence to ensure these 5 important things are considered before starting a business in a country. They are as follows:
1. Incorporating A Company
Incorporating a company early will greatly aid in the security and protection of your company's name. After incorporation, you can further protect your business name by registering it as a trademark. Not only that, many legal agreements such as office spaces, licensing, and special contracts can only be signed by a legally created corporate entity.
Starting a business in Singapore is simple, according to the Doing Business report. A business can be registered in 2.5 business days and has 3 procedures. As a result, it was ranked third in the world in the category of beginning a business according to ACRA. Starting a business in Vietnam is more difficult. A business registration takes around 34 days and ten procedures.
Construction permits are also processed more quickly in Singapore. According to the Doing Business report, obtaining the clearance and approvals required to establish a warehouse and obtain utility connections in Singapore takes only 26 days and 11 procedures. In Vietnam, the same number of processes take 114 days.
2.  Taxation
Taxation is ultimately what most businesses will look at and determine whether setting up a business in a country is ideal. Having a low tax and an easy-to-understand taxation model will significantly attract foreign businesses to the country.
Vietnam's corporate tax rate is 25%, which is slightly higher than Singapore's, which is 17%. In Vietnam, a company must pay 32 tax payments every year. This is more than the East Asian and Pacific region's average of 25 payments. Businesses in Vietnam also spend an average of 872 hours per year filing, preparing, and paying taxes.
Singapore enterprises, on the other hand, make five tax payments and spend 82 hours per year filing, preparing, and paying taxes.
3.  Highly Talented and Skilled Workforce
Having a highly talented and skilled workforce is highly sort after all around the world. This is why these people often travel around the world in search of better-paying jobs. Paying for a highly talented and skilled workforce significantly lower multiple expenses (extra labour, time management, quality of work) and would be a great investment for the business. Therefore, businesses that plan to relocate oversea must understand a country's workforce and talent.
The Global Competitiveness Index (GCI) ranks Vietnam 56th in the world in terms of labour market efficiency. The country performed well in two indicators: women's labour-force participation and wage and productivity. However, there is space for improvement in the remaining eight areas. The Minister of Labour and Investment plans to develop a strategy for implementing a nationwide labour productivity campaign in order to increase national competitiveness.
The GCI cites Singapore's most difficult element for doing business as restrictive labour policies. However, the city-state performs admirably in 9 of 10 indices related to labour market efficiency. Singapore has the highest labour force productivity and general overall attitude because of strong firm rules, a generally favourable working environment, and appealing living conditions in the country, the staff is highly motivated. The availability of the region's most talented labour pools is also a result of excellent education systems, ongoing training programs, and appealing immigration regulations.
4.  Foreign Investment Friendliness
A government should have legislation in place to safeguard investors in order to attract investments. Transparency of transactions, liability for self-dealing, and shareholders' capacity to sue officers and directors for misbehaviour comprise the Strength of Investor Protection Index in the Doing Business report. Singapore received a score of 9.3 out of 10, while Vietnam received a score of 3.3. As a result, Vietnam scored 157th for investor protection, whereas Singapore ranked second.
Furthermore, the Singapore government favours an open trade policy and places few restrictions on overseas trade activities. Singapore was ranked first in the 2014 Global Enabling Trade Report due to its trade-friendly policies and business-friendly environment. Vietnam ranked 72nd, with access to funding recognized as the most difficult factor for doing business.
Singapore will place a higher emphasis on solid and accurate financial reporting in the future to minimize tax evasion and financial crimes and to protect genuine investors. Compliance with legislation such as FATCA and BASEL III will continue to preserve real investors' wealth while also attracting more international investment.
5.  Location
Having a strategic location allow businesses to travel, ship, and trade better. Depending on the kind of business that you are doing, choosing the right location may be a high investment decision.
Vietnam is strategically located at the heart of ASEAN. Furthermore, it is one of Southeast Asia's most promising economies. Vietnam is also bordered by the Pacific Ocean, Thailand, Laos, Cambodia, and China. This creates ideal conditions for international shipping and trade in Vietnam.
Singapore's location allows you to connect with the world's major trade, maritime, and aviation lines, making it a perfect base from which to reach markets throughout the Asia Pacific. Singapore is located within a six-hour radius of any Southeast Asian country and is ranked #2 as the most globally connected country in the world by DHL Global Connectedness Index 2020.
Changi Airport serves around 62 million people per year, with over 100 airlines travelling to over 100 countries and territories worldwide. Singapore has international connections to over 600 ports, making it a perfect location for accelerating your commercial ambitions.
Why Singapore is Actually the Best Place to Set Up a Business
Singapore has recently overtaken Hong Kong's title of ASEAN financial centre, making them the third largest in the world. As Singapore's 2030 master plans aim to attract another 2 billion foreign talent into the country. Large billion-dollar businesses such as Dyson, Sea, and Alibaba have entered the country to do business. Dyson also just recently announced that they have invested $5 billion to relocate its HQ into St James Power Station.
As large businesses enter Singapore, it would be the best time for other businesses to hop on the bandwagon and join the other big fishes in Singapore to create a network ecosystem to do business in.
Suggested Read: Why Do Foreigners Choose To Incorporate A Business In Singapore
Suggested Read: Can A Foreigner Set Up A Company In Singapore
Suggested Read: Why Singapore Remains The Top Choice For Doing Business
Suggested Read: How To Move Your Vietnam Business To Singapore
Conclusion
Vietnam's economy has grown quickly as a result of the government's continuous efforts to strengthen the country's investment climate by upholding socio-political stability.
In terms of simplicity and ease of company incorporation, low corporate tax rates, protection of intellectual property, and a better-educated workforce, Singapore is still the preferred business-friendly country to set up companies.
At ApacTrust Consulting Group, we are an accounting firm in Singapore with more than 20 years of experience helping foreign and Indonesian investors to structure their holdings and joint ventures. Our services include accounting and taxation, corporate secretarial, offshore incorporation, and business support. No unnecessary quotes, no hidden costs. Contact us to find out more about our services today.