An Overview Of Singapore ONE Pass
---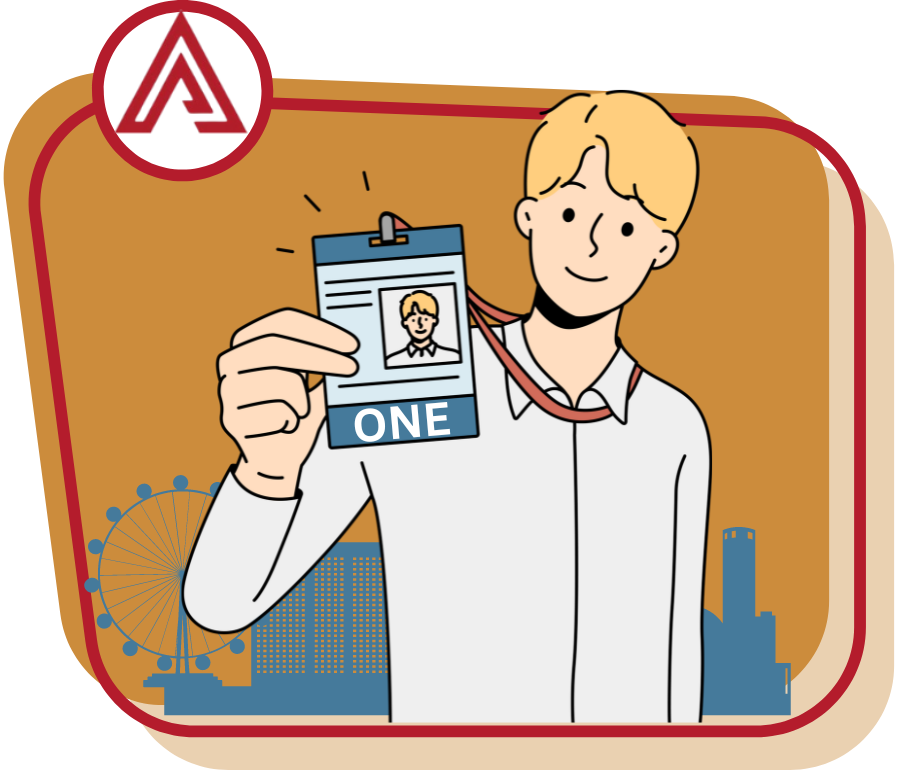 An Overview Of Singapore ONE Pass
The Overseas Networks & Expertise (ONE) Pass is a brand-new work visa announced by the Singapore government last year and has started to go into effect on January 1, 2023.  With this new pass, the government of Singapore hopes to renew its top talent pool by issuing them with a longer work visa.
This blog provides an overview of the ONE Pass requirements and a brief comparison to the current work visas that are presently available in Singapore.
About Singapore ONE Pass
The ONE Pass is a new type of work visa, revealed by Singapore's Ministry of Manpower (MOM), and has taken effect from 01 January 2023.  Top talents in business, arts & culture, sports, science & technology, and academics & research, are most welcome to apply for this new work visa. Having said that, the ONE Pass has many more advantages that make it more appealing to many overseas professionals on top of being more flexible than other employment passes.
Advantages of the Singapore ONE Pass
Unlike the standard

Employment Pass

, the ONE Pass is a personalized work visa linked to the individual(s) which allows them to switch jobs without the need to reapply for a new employment pass.
The ONE Pass is good for five years, but it could be renewed if the individual meets the stringent requirements for renewal as compared to two and three years for standard Employment Pass (EP) and

Personalised Employment Pass (PEP)

holders, respectively.
Holders of Singapore ONE Pass can register and operate their businesses in Singapore as well.
ONE Pass also allows high-earning talented professionals to reside in Singapore without first finding employment here.
Holders of ONE Pass are allowed to bring some members of their families to Singapore and their spouses may also be permitted to work in Singapore with a

Letter of Consent

.
ONE Pass holders are exempt from the

Complementarity Assessment Framework (COMPASS)

which Employment Pass (EP) candidates must pass a two-stage eligibility framework. In addition to meeting the qualifying salary.
ONE Pass holders are exempt from the

Fair Consideration Framework (FCF)

one of Singapore's Ministry of Manpower directives which requires hiring companies to give Singaporeans equal consideration for all available job positions before employing those with Employment Passes.
ONE Pass holders are allowed to take as much time as they need to look for work and they can work for as many companies available to them.
ONE Pass holders can change jobs anytime without the need to apply for a new pass as compared to other standard work visas.
ONE Pass holders' spouses are permitted to work so long as a Letter of Consent is present.
Suggested Read: Mandatory Employment Pass Verification
Suggested Read: About Work Permit In Singapore
Related Content: Singapore Employment Pass Services
Who can apply for ONE Pass in Singapore?
The ONE Pass page published by the Ministry of Manpower in Singapore states that there are various criteria an individual must meet in order to be eligible for ONE Pass, including specific income criteria and other exceptional or outstanding achievements.
Eligible ONE Pass applicants must satisfy one of the following requirements under the salary criterion:
In the previous year, earned a fixed monthly income of at least SGD 30,000, or its equivalent in another currency.
Will be employed by a Singapore-based company with a monthly income of at least SGD 30,000.
In addition to meeting these requirements, foreign applicants without active work passes must also show that they have been employed for at least a year abroad by a reputable, established company or are expected to begin employment with an established organization in Singapore. For a company to be considered established, it must either have yearly revenues of at least USD200 million or a market valuation of at least USD500 million.
As for renewals, candidates must fulfill one of the following requirements:
Earn a fixed monthly income (in Singapore) of at least SGD 30,000 on average over the last five years.
Founded a business in Singapore and actively runs it with at least five local employees each earning at least SGD 5,000 (pegged to the EP minimum qualifying salary).
The ONE Pass applicant or candidate may attempt to highlight their exceptional accomplishments or any outstanding achievements in the arts and culture, sports, science and technology, academia, and research if they do not meet the income requirement. Another point to take note of is, the fixed monthly income of at least SGD30,000 should come from one employer. Other sources of income may be taken into consideration on a case-by-case basis.
Can EP holders convert their pass to Singapore ONE Pass?
Conversion of EP to ONE Pass is also possible if the pass holders meet the requirements.   It is estimated that 8,000 professionals, or 5% of EP holders, may be eligible to apply for this new work visa.  If they meet either of the following criteria, current Singapore EP holders may switch to ONE Pass:
Income criterion
The EP holder either will get a set monthly salary of at least SGD 30,000 from their hiring company in the near future or have been remunerated a monthly fixed income of at least SGD 30,000 in the last year.
Exceptional or outstanding achievement criterion
The EP holder must have distinguished accomplishments in the fields of business, arts & culture, sports, science & technology, or academics & research.
How to apply for ONE Pass
Step 1: Form Submission
The applicant or a registered agency submits the application form with a fee.
The majority of applications take about 4 weeks to process with the exception of the "outstanding achievements" route which may take slightly longer due to the need for further assessment and evaluations.
Step 2: Collect In-Principle Approval letter
The applicant will receive the In-Principle Approval (IPA) letter if their application is accepted. This pre-approved single-entry visa is essential for the applicant to enter Singapore.  The IPA grants them six months to travel to Singapore and obtain the ONE Pass.
Step 3: Entry to Singapore
The applicant must make doubly sure they are in compliance with the vaccination-based travel requirements in order to enter Singapore.
 Step 4: Issuance of ONE Pass
Within six months of receiving in-principle approval, the applicant must fix an appointment with Employment Pass Services Centre (EPSC) to get the ONE pass issued.  All supporting documents and mandatory information must be prepared prior to the appointment.
Step 5: Notification Letter
The applicant will receive a notification letter with a one-month validity that allows the applicant to work as well as travel in and out of Singapore while waiting for the pass to be issued.
Step 6: Other forms of Registration (if required)
Within two weeks of receiving their ONE Pass, new applicants and those who registered more than five years ago must register their fingerprints and have their photographs taken (if necessary).  They must also schedule an appointment with the Employment Pass Services Center (ESPC) with the following documents to bring along :
1.     Appointment Letter
2.     Notification Letter
3.     Original Passport
Step 7: Receive the physical ONE Pass card
After registration or document verification, the candidate will receive the card within five working days.  The applicant can either self-collect at EPSC or authorize another person to do so after 2 unsuccessful deliveries.
Conclusion
At APacTrust, we have years of experience in helping people to get their work visas or employment passes.  Feel free to get in touch with us right away for a free consultation if you're interested in applying for your work pass or wish to learn more about which type of work pass you are eligible for.  Contact us today to get the best quote.